1) Ranbir Kapoor: Son of Rishi Kapoor, grand-son of Raj Kapoor and great grand-son of Prithviraj Kapoor, Ranbir Kapoor is the next biggest star-son to enter Bollywood. Despite a flop outing with his debut film SAAWARIYA, he managed to prove that he's an competent actor with an extremely likeable screen presence and all the qualities that would catapult him in to the top rung (females love the guy!!). Despite his chocolatey looks, Ranbir also has the most interesting line-up of films on hand and not just sticking to the romantic and light-hearted roles like his father did for the most. Apart from Yashraj's BACHCHNA AE HASEENO where he plays a cassanova he has Raj Kumar Santoshi's AJAB PREM KI GHAZAB(his father Rishi worked with Santoshi in DAMINI), Mani Rathnam's next(a solo), Prakash Jha's RAJNITI(plays Rajiv Gandhi), Karan Johar's MY NAME IS KHAN(plays a terrorist), and a untitled film with TIPS. He has also said yes to his friend Vikramjit Singh's films MERA JAHAAN where he plays a Sikh salesman called Rocket Rocky Singh!
2) Neil Nitin Mukesh: The son Nitin Mukesh and grandson of Mukesh made a firey debut with Sriram Raghavan's masterpiece JOHNNY GADDARR. Before his debut he was compared with Hrithik Roshan, however it was evident that he was determined to carve a niche of his own. Playing a anti-hero who doesn't care about anything but money, Neil Nitin Mukesh sprung a surprise on everyone with a stunning debut which oozed confidence. The actor has also decided to ensure he has a mix of interesting films from the commercial fare's to the more offbeat. His forthcoming films include Sudhir Mishra's TERA KYA HOGA JOHNNY? (he plays Parvez not Johnny here), Yash Chopra's Next directed by Kabir Khan (KAABUL EXPRESS), FREEZE with Eros International co-starring Koena Mitra and Amrita Arora and Mahdur Bhandarkar's FASHION.
3) Mimoh Chakraborthy: One would've thought the son of legendary actor Mithun would've got a better debut than the jaded 80's reminder JIMMY. Mimoh's debut film was a complete and total disaster at the boxoffice and the reviews were less than favourable too. His voice needs to be worked on(a criticism his father also faced), and his appearances need to be worked on too. However despite that Mimoh has a stack of films lined up for release; the bad news is most of them too sound B grade with some directed by JIMMY director Raj Sippy! HAMILTON PALACE(produced by old-timer Salim and directed by Raj Sippy), INDIA ROCKS(a musical opposite Riya Sen), and LOOT(most promising of the lot, produced by Sunil Shetty and co-starring AAP KA SURROOR girl Hanshika Motwani and also Govinda).
4) Sikander Kher: Son of legendary actors Anupam Kher and Kirron Kher; Sikander Kher made his debut a few weeks back with the Sanjay Gupta produced thriller WOODSTOCK VILLA. He made his debut as an anti-hero and most critics have praised his performance and potential too. His next immediate release is SUMMER 2007 opposite the delightful Gul Panang.
5) Harman Baweja: Never before has the debut movie of an actor been so costly, veteran director Harry Baweja (DILWALE, DILJALE, DEEWANE, QAYAMAT) directs thuis sci-fi love story with special FX never seen before in India. The movie has been made on an astronomical budget and co-stars Harman's real life beau Priyanka Chopra. Harman's become famous for being a Hrithik "clone". Not only his looks and the fact he's treading on terrortiry ruled by Hrithik in KOI MIL GAYA and KRRISH, dancing seems to be one of his biggest fortes. Will Harman live up to the hype remains to be seen. Though one thing is for sure, he isn't going anywhere soon with films like Ashutosh Gowariker's Next, Ajit Pals VICTORY opposite Amrita Rao, Anees Bazmee's ITS MY LIFE with Genelia D'Souza and Nana Patekar.
6) Imraan Khan: Nephew of Aamir Khan (he played the younger version of Aamir Khan in QSQT abd JJWS) and grand-son of Nasir Hussain makes his debut with the sweet looking love story JAANE TU YA JAANE NA. The movie is being produced by Aamir Khan himself(after LAGAAN and TAARE ZAMEEN PAR) and directed by Abbas Tyrewala who makes his debut. The gorgeous Genelia D'Souza is cast opposite him,and the music is by A.R Rehman. Incidentially, the film clashes with Harman Baweja's HUGE LOVE STORY 2050…will Imraan see success with his much smaller debut? Moving forward, it's evident Imraan has the upper hand as far as projects go; Imraan has Sanjay Gadhvi's KIDNAP with Sanjay Dutt and Soham Shah's next produced by Karan Johar.
7) Shiv Darshan (CALM DOWN SHETTY BHAI): Not much is known about him, except he is making his debut soon. Son of Suneel Darshan, Suneel has gone on record to say that he will be the next Akshay Kumar (no doubt bitter after Akshay has left him). The Darshan Bros. will sign Shiv for all their movies too….but will Shiv stay around? And will others sign him?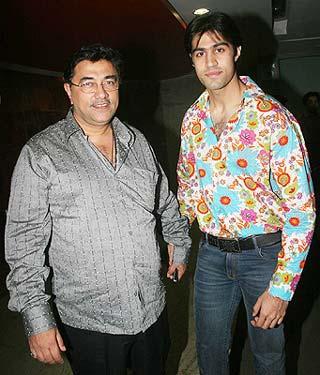 8) Rahul Bhatt: Again not much is known about him. Son of Mahesh Bhatt, he will make his debut with SUICIDE BOMBER directed by Anurag Basu. Given the Bhatt's are usually successful at launching their own in-house actors who give them hits(Emraan, Shiney) Rahul could well follow.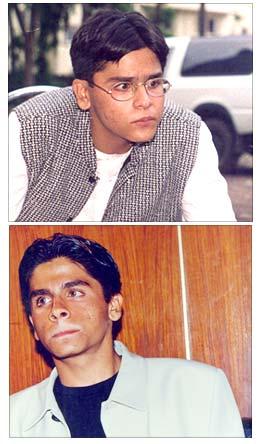 A.Shah